In 2019, that dream became a reality with the founding of Moyo Gems, a miner-to-market collaboration focused on creating a more equitable and responsible gemstone supply chain that is changing the status quo for women artisanal miners (and their male allies!*) in Tanga, Tanzania and Taita-Taveta and Kwale Counties in Kenya.
The Moyo Gems program buys directly from artisanal miners and tracks those gemstones through export and faceting, creating more value for the miners and resulting in radical transparency for the market.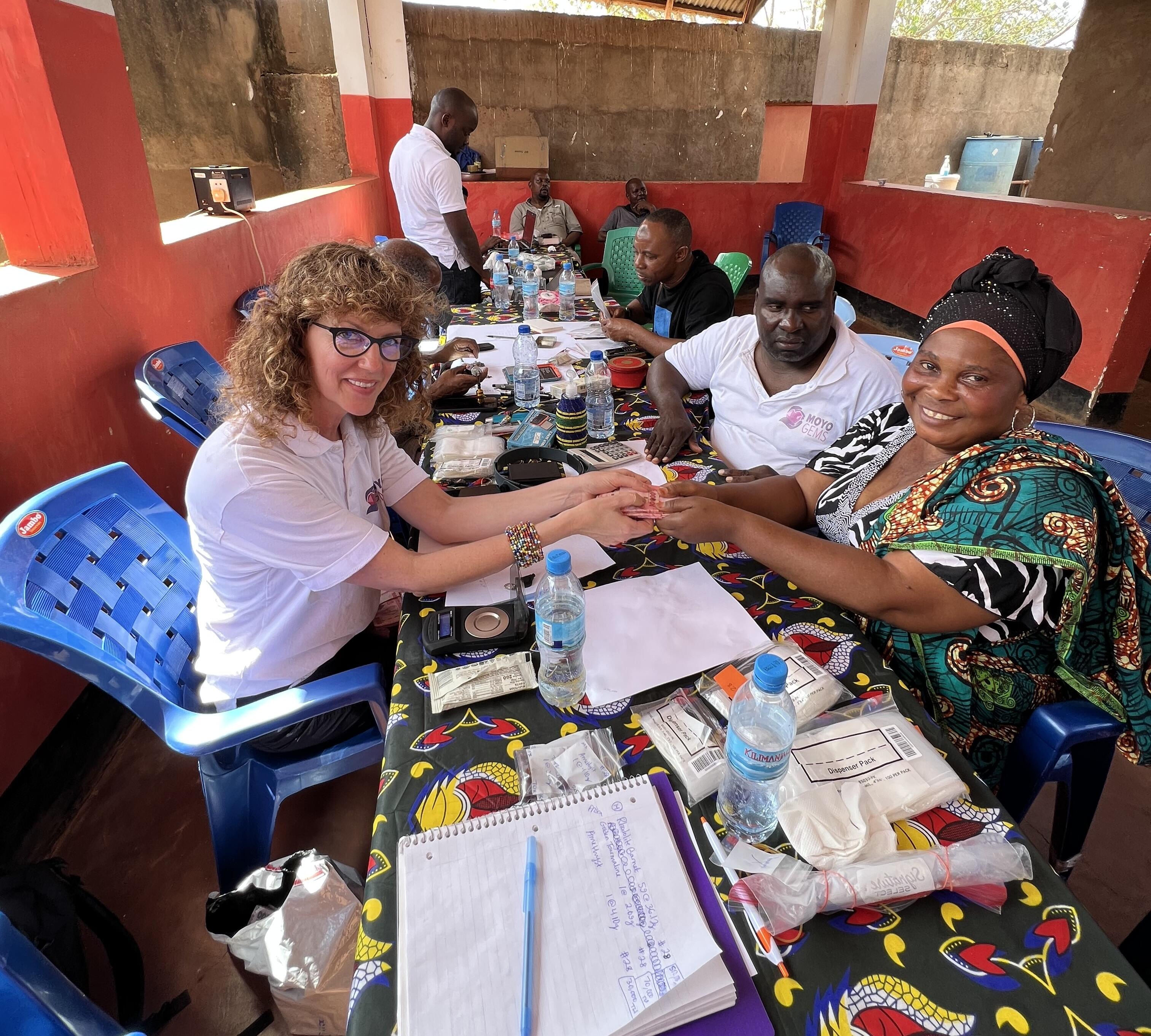 How exactly does Moyo Gems do this? We're so glad you asked.
We focus on education.
The Gemological Institute of America (GIA) piloted a comprehensive Artisanal Mining training for members of the Tanzania Women Miners Association. This training was the first time many of these miners had ever received this kind of information about the gems they were finding. A year or two after this training and resulting enthusiasm from the women miners in the region, the Moyo Gems project was co-created with the women miners in their villages. This project is a collaboration with the Tanzanian Women Miners Association (TAWOMA), Association for Women in Energy and Extractives in Kenya (AWEIK), Pact, our company, and fellow gem suppliers Nineteen48 and Maison Piat.
We encourage formalization.
To participate in the Moyo Market Days, which are typically held over three days in the mining villages, miners must meet specific criteria:
They must be members of TAWOMA (Tanzania) or AWEIK (Kenya)

They have attended occupational health and safety training provided locally by Pact at no cost

They need to demonstrate a legal right to mine their concession
By starting with achievable criteria and progressively raising standards, we aim to create safer, more productive, and formalized mining practices.
We offer consistent, local market access.
Once miners meet the participation criteria, they are invited to attend regular Market Days. During these events, they have the opportunity to sell their gemstones directly to international buyers ANZA, Nineteen48 and Maison Piat. Local gem brokers, who have been vetted by TAWOMA and hold valid licenses, also attend. Each miner selects a broker to represent her, transforming the relationship between miners and brokers into a partnership based on fairness. The miners meet with international gem suppliers (or our export broker representing us) face-to-face and get a direct understanding of their value on the international market.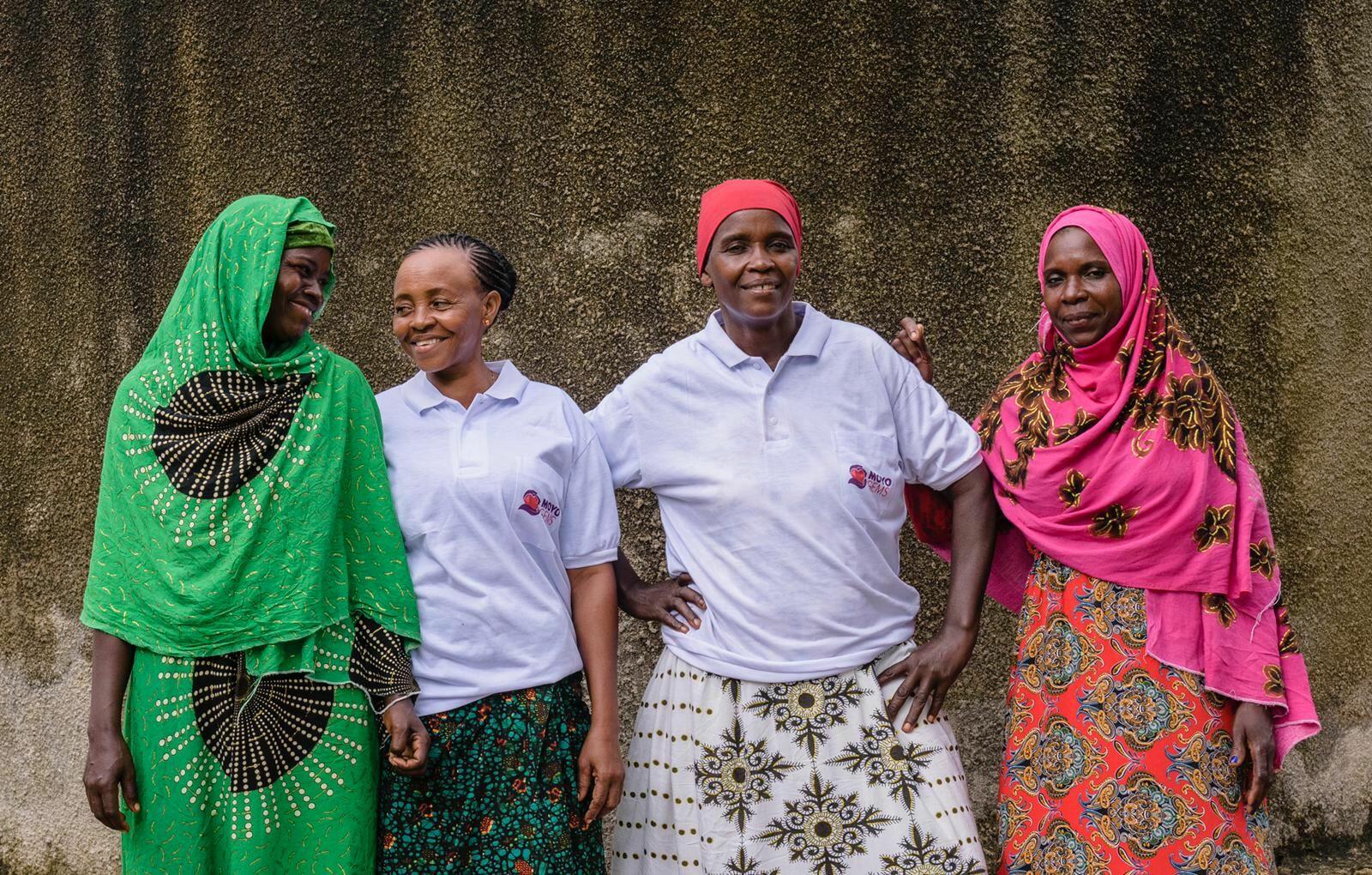 What's the impact?
For the miners:
Financial: The most tangible benefit for the miners is increased income: miners report receiving 3-10 times more for their gemstones through Moyo Gems than they would have through the traditional local broker supply chain. They receive 95% of the export price of their gemstones, while paying the local broker 5% to help them negotiate the deal directly with international suppliers.
Knowledge: Beyond the financial benefits, we are proud to be empowering women miners in ways that give them greater knowledge of gemstones, the market, and mining safety, in addition to working towards financial security.
Empowerment: When we first conducted the Market Days, the women often did not question the price we offered: we had to teach them to counter our offers! Now the women are much more likely to know their asking price and negotiate.
Community beneficiation: A number of other educational programs have been launched in this region for participating Moyo miners. Pact works with grantors, the miner associations of TAWOMA and AWEIK, and the women participating in Moyo Gems to select how best to use funds received through grants to benefit their communities, such as TAWOMA Youth's initiative that is training 18-25 year old young women how to facet gems. Thanks to generous donors, Pact has worked with TAWOMA to implement its Worth program offering its members financial literacy training.

For the industry:
Novel model: Through Moyo Gems, we have established a cyclical business model that gives back more than it takes from the communities we work with. We meticulously track our gemstones from the miners, to our cutters, to our designers and retailers who represent the gems. We strive to represent a beneficial model for others looking to change the status quo in the jewelry supply chain.
Transparency: This direct model of miner-to-international supplier with minimal transactions in the middle of the gem's journey results in radical transparency of the gem's origins to the end customer or collector. We can document this journey for some of our gems through blockchain, harnessing technology to link the details and origin on the supply side to the end market side.
Storytelling: The radically short supply chain allows for the individual and collective stories of the miners and their gems to be translated and told, via facts and photos, to the end customer.
How did Moyo Gems come to be?
Through the ANZA Gems' team travels and many mine visits, we've discovered that many miners, despite their incredibly hard work, lack essential gemstone education. This knowledge gap puts them at a significant disadvantage when it comes to selling their gemstones—and women miners (about 30% of the artisanal work force in the region) are at a particular disadvantage.
The Gemological Institute of America (GIA), with the assistance of global NGO Pact, piloted their comprehensive Artisanal Mining training in the mining villages of Tanga, Tanzania for members of the Tanzania Women Miners Association in 2017. Here, local miners learned about the gemological details of the gemstones they extract. Through images and Kiswahili, the weather-proof book shows gem varieties found in the region, how to clean and sort rough gems, and demonstrates how to use a light to examine the quality of the rough.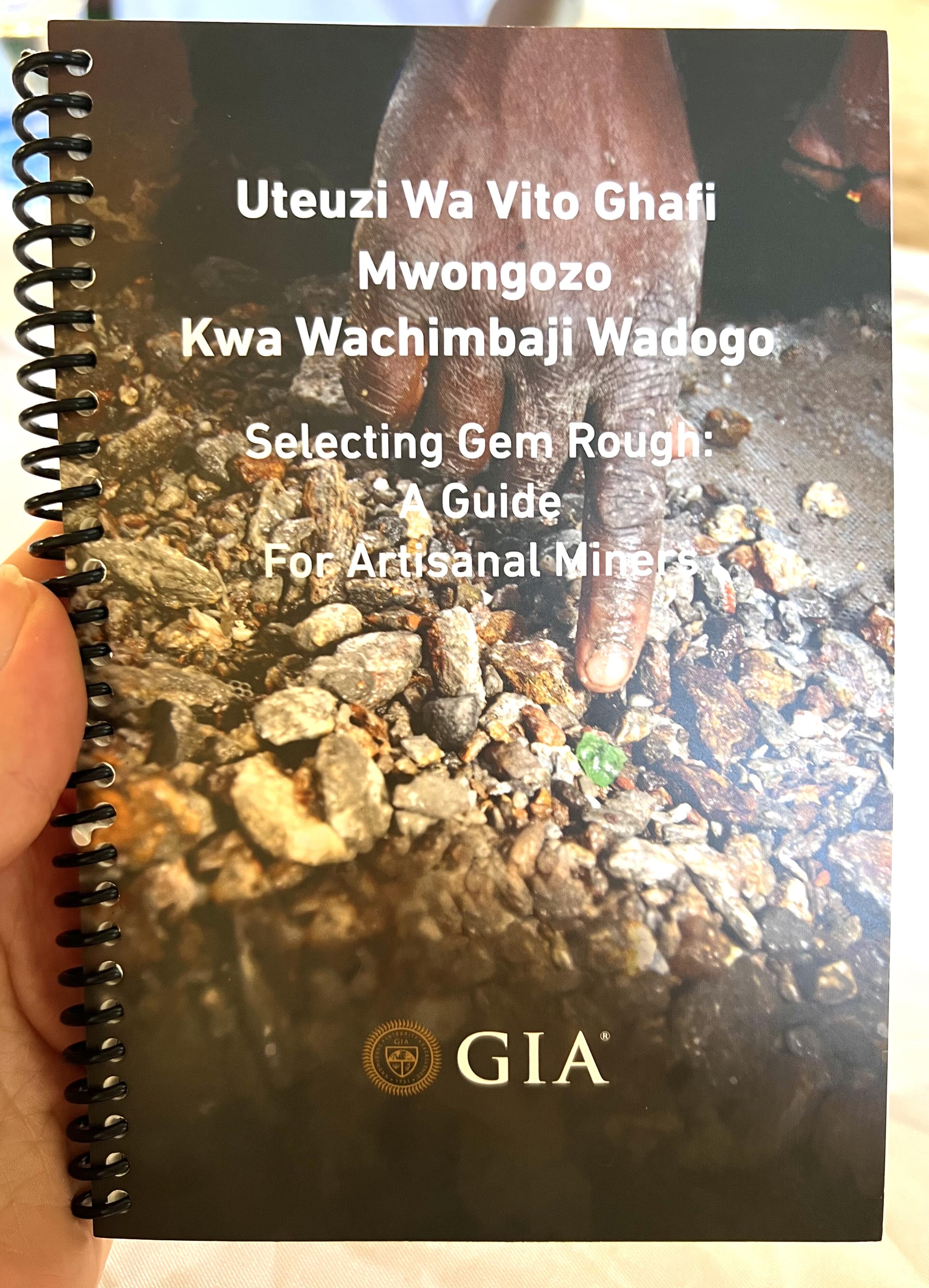 These trainings revealed another critical challenge for these women miners: the lack of access to a consistent market for selling their gemstones. This need inspired Monica Stephenson of ANZA Gems, Stuart Pool of Nineteen48 Gems and Cristina Villegas of Pact to brainstorm at the Chicago Responsible Jewelry Conference in 2017 about how to build upon the miners' enthusiasm and develop an accessible market for their gems. In June of 2018, Monica, Stuart, Cristina, and Norbert Massy of Pact traveled to Tanga, Tanzania to meet with the women miners in their villages, and co-designed a groundbreaking program based on this dialogue. The first Moyo Gems Market Day officially launched in May 2019.
Why focus on women?
An estimated one third of artisanal and small scale miners worldwide are women. At least 60% of participating Moyo miners are women. A growing body of research reveals the dynamic stories of how women come to mining: some women miners noticed others mining and took part. Some learned from their fathers or other family members. Others traded in gemstones and decided to claim the whole process and mine themselves. Some are widows or relatives of men who were mining and have decided to carry on the family business out of necessity. Some were farmers suffering the effects of climate change with unpredictable rains who decided to try mining and liked it.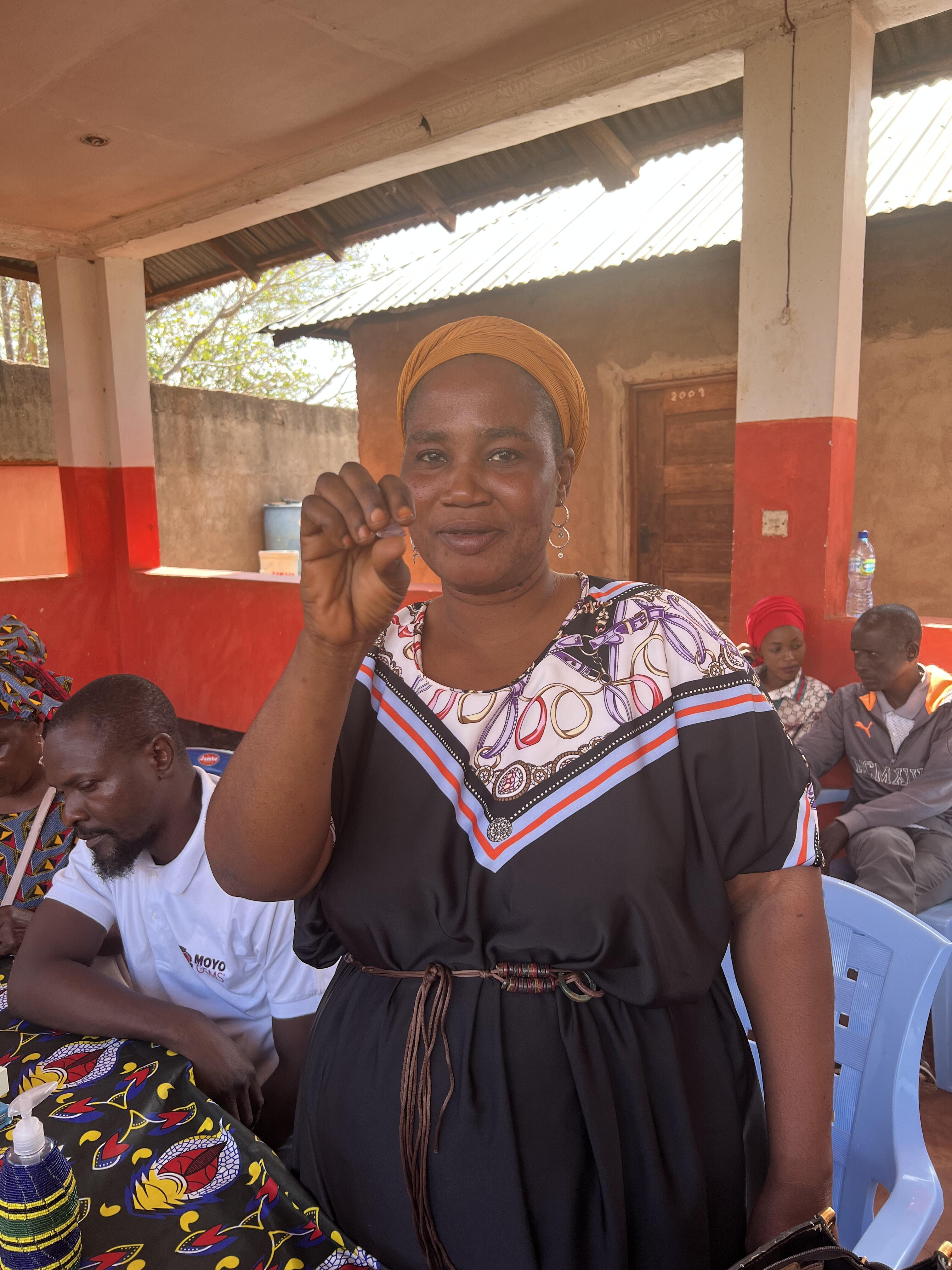 In any case, mining represents one of the rather limited potential income sources in this region which are usually farming, mining, merchant, or supporting these industries. Women miners use their gemstone income to pay for school fees for their children and other household and business expenses: in this way they tend to reinvest back in their communities through support of local merchants. This ripple effect in gem mining communities is a big reason Moyo Gems is focused on women miners—the entire region benefits when women are educated and empowered. Moyo Gems also seeks to create equity in the global gem business, which has traditionally kept women in the margins of the industry.


What's next for Moyo?
Since its inception, Moyo Gems has grown exponentially. Our first Market Day in May 2019 brought together over 70 miners, mostly women, eager to sell their gems. Today, we continue to expand our reach in Tanzania, and in 2022 launched Moyo Gems Market Days in the Taita/Taveta region of Kenya. There are now over 900 artisanal miners (and a minimum of 60% women) registered in East Africa to participate in our Market Days!
There is a program offshoot of TAWOMA Youth in Dar es Salaam with a newly-formed workshop of gem faceters: grants have outfitted this workshop with brand new faceting machines and equipment as well as training to help these women faceters participate in the international marketplace. We look forward to having more gems processed in the countries where they are mined, adding value to the local economies as well as the women who are participating in the processing and export.
We hope that the Moyo Gems project could be used as a model to engage with other artisanal mining communities in an empowering and beneficial way for all involved.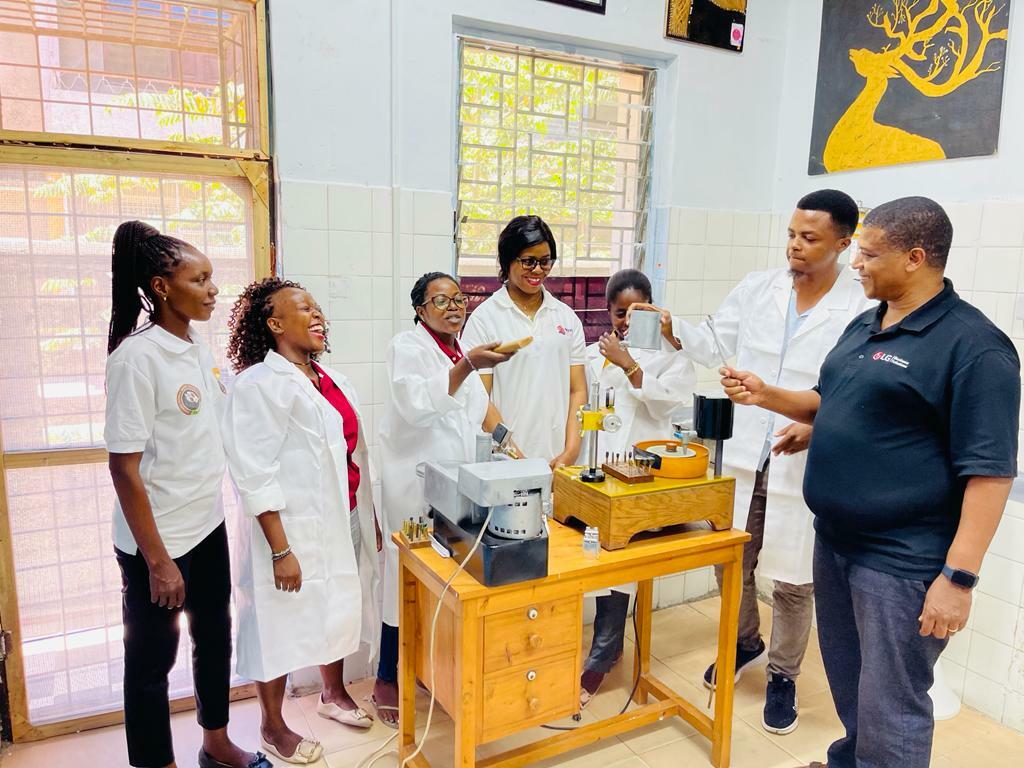 What is artisanal mining? Is there anything else to know?
Let's first start off with what Artisanal Mining does not include:
Wide, deep open pits (like you see with diamond mining)

Big mining companies with subcontractors

Large-scale destructive damage to the environment with heavy machinery
Technically, artisanal and small-scale mining (ASM) describes mining performed by individuals or small groups of people that generally use limited technology to mine. And, in truth, it's no small-scale phenomenon: 90% of all mining in the world is ASM mining. It takes place in 80 countries worldwide and on all continents except for Antarctica. ASM miners are responsible for 20% of all gold mined globally each year, 20% of all diamonds mined, and 70-90% of colored gemstones (both precious and semi-precious).
In East Africa, artisanal mining is done with basic tools like shovels, picks, and sieves to separate the rough. These miners are not working for corporations or companies; instead they often form independent small groups, work the mine themselves or with their family, and/or hire others to work on their mine concession.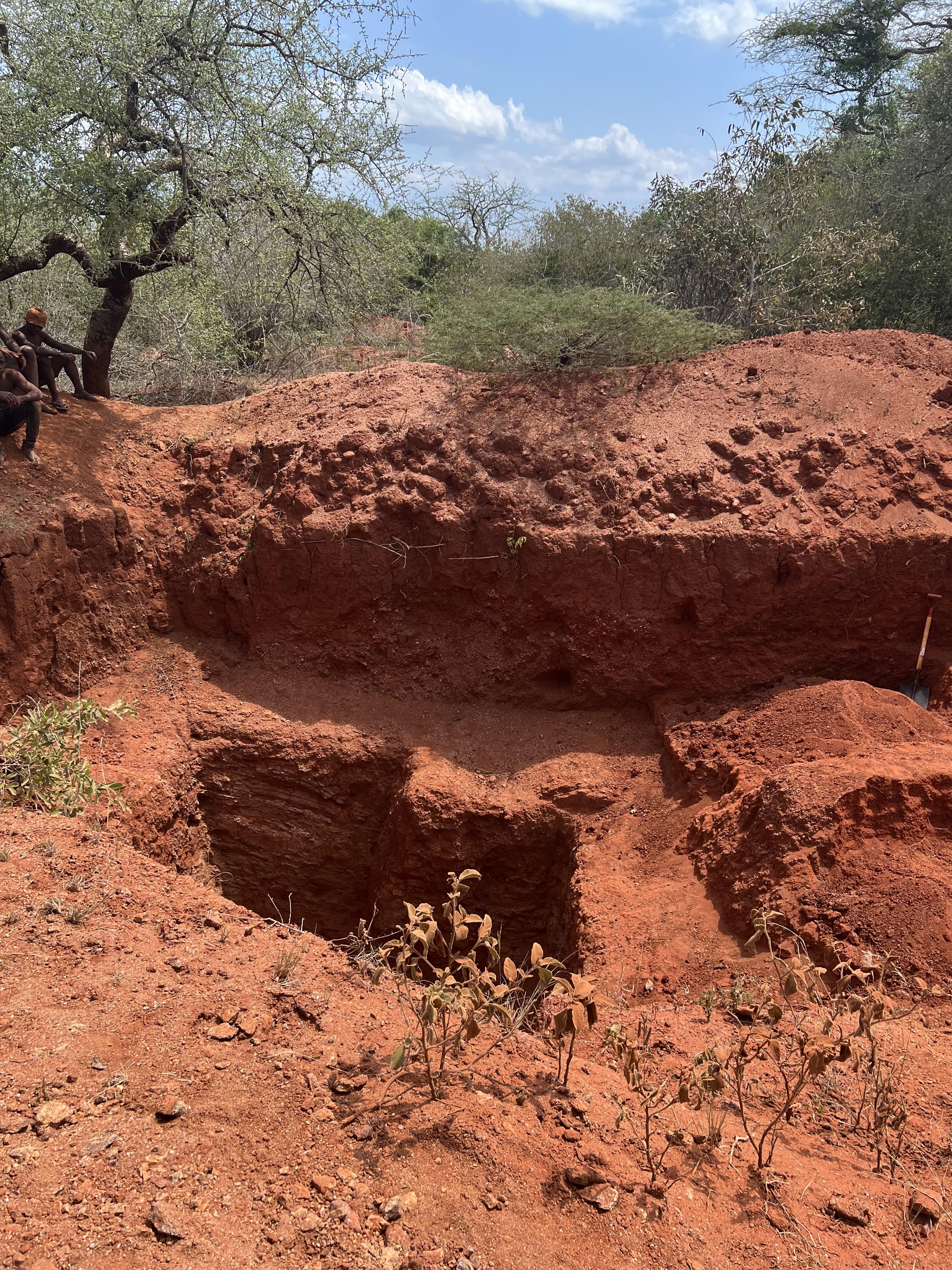 The Umba River Valley, the region in Tanzania where ANZA Gems sources from, is home to a vast and colorful array of gems that are mostly alluvial–meaning the rough was carried from its original source to its current destination by water. Since alluvial gemstones are often deposited in old riverbeds or areas where there was once water, the gems are in more surface-level ground and therefore much easier for artisanal miners to access with the limited tools that they have.